Looking for a good summer read? Try the 84-page tick management handbook, published by the Connecticut Agricultural Experiment Station. But if that doesn't sound like the beach read you had in mind, let's dig into a condensed version of some of the practical advice found within. Although there's never a bad time to work your way through a guide on New England tick control and bite prevention, summer is when we could all use some reminders about how to keep our families protected against the risks associated with ticks in our region.
One of the best resources available is the Centers for Disease Control's main tick identification page. There you'll find a number of helpful links about how to properly identity a tick, remove one, check for symptoms, and learn more about the regions of the United States where ticks are most prevalent. As you likely know, New England is one of the most concentrated areas of the United States for tick activity.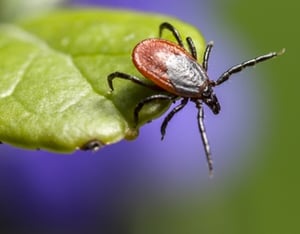 Learning how to safely remove a tick and maintain an awareness about symptoms, like rash or fever, is information all New England residents should remember. At Burgess Pest Management, we maintain a twofold approach to the threat posed by ticks : awareness and control.
For control, our tick and mosquito control team executes a strategy that applies low-impact, environmentally-sensitive, and organic products to create a residual barrier that ticks don't like to cross. By treating around your property perimeter with 200-gallon hydraulic sprayers, we're forming an important line of defense that's proven to reduce tick activity.
In addition to a professional treatment by Burgess Pest, modifying your landscaping to create a tick-safe zone is important step that the Burgess Turf Management team undertakes. Our professional landscapers consult with the tick team to create tick-safe zones. Here's the CDC's guideline, which we tend to follow when it's applicable:
Remove leaf litter.
Clear tall grasses and brush around homes and at the edge of lawns.
Place a 3-ft wide barrier of wood chips or gravel between lawns and wooded areas to restrict tick migration into recreational areas.
Mow the lawn frequently.
Stack wood neatly and in a dry area (discourages rodents).
Keep playground equipment, decks, and patios away from yard edges and trees.
Discourage unwelcome animals (such as deer, raccoons, and stray dogs) from entering your yard by constructing fences.
Remove old furniture, mattresses, or trash from the yard that may give ticks a place to hide.
Whether you're simply interested in learning more about ways to stay protected against ticks, or would like more information about pricing and strategy for New England tick and mosquito control, click the tab below!