One of the most common pests to infest Massachusetts homes each spring is carpenter ants. These insects are capable of causing extensive wood damage, which is why people are always asking how to get rid of carpenter ants in Massachusetts?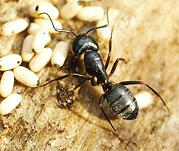 In order to know how to get rid of them, you first have to know why carpenter ants are in Massachusetts. Carpenter ants are often related to a moisture issue in a wall or roof. Whether caused by a leaking pipe, condensation from an air conditioning unit, or moisture buildup created by our crazy New England weather, carpenter ants thrive in these conditions.
In order to get rid of carpenter ants in south shore, MA towns like Duxbury, Scituate, Cohasset, and Marshfield, it's helpful to find their source. Carpenter ants are known to cause extensive damage to interior walls because of damp conditions. Sometimes you can actually hear a crunching noise in the walls from the excavating work these pests are doing. Carpenter ant exterminators like Burgess Pest Management are experts at finding this.
So how do you get rid of carpenter ants from your Massachusetts home? At Burgess Pest, our Pest Management Professionals (PMP's) are trained to inspect, not just for the ants, but for the conditions causing their existence. This way, we're able to find the source of the infestation and quickly end it.
There are a myriad of professional products that can be used, but we tend to rely on highly effective low-impact products such as gels, which leverage the natural behavioral patterns of ants to kill the colony.
Ants are sharers, so by using our professional gel products, we're allowing the colony to share the product with one another until it reaches the queen. Theoretically, worker ants will share with the queen first. Once the queen is dead, the colony is essentially over.
For south shore Ma carpenter ants, extermination is a science.
Because carpenter ants excavate wood and cause extensive damage, we don't recommend self-treating. The Massachusetts pest control operation at Burgess Pest Management has one of the most experienced teams of carpenter ant control specialists in New England. We offer free estimates, so don't hesitate to do a little digging of you own.
For the best pest control in Massachusetts, get a free estimate today.