Experts recommend several inspection steps
Now that school is finished and kids are home for the summer, it's especially important to be mindful of exposure to ticks in Massachusetts and all over New England. It only takes a moment of outdoor fun, whether it's away at summer camp, hiking through the Blue Hills, or even in your own backyard, to encounter a tick.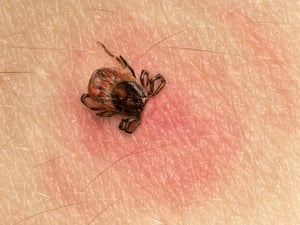 Proper inspection on your kids and pets is the first step in ensuring a safe outdoor experience. While there is nothing that can guarantee you'll never encounter another tick on your property (even the amazing Burgess Pest Management tick and mosquito control program), there's a lot you can do to reduce tick exposure and limit the health-related risks they pose, such as Lyme disease.
Inspect your body, as well as your children and pets immediately after outdoor time. Using a handheld or full length mirror is especially helpful in detecting ticks. Be sure to inspect above the legs, as ticks can easily traverse upward.
Check your clothing, as a separate inspection from your own body. Properly looking at clothing, to inspect for ticks, is easiest when the clothing is held under direct light. If you identify a tick or suspect you see a nymph, clothing can be placed in a drier, and dried on high heat for at least 10 minutes to ensure elimination.
The CDC recommends showering within two hours of spending time outdoors, as this method is known to reduce the risk of getting Lyme disease. Showering will help to remove any unattached ticks that are on your body.
If you find an attached tick on your body, there are steps you should take to properly remove it. The CDC has a step-by-step guide on how to properly remove a tick, which you can find here.
Pay close attention to the bite area in the days after detecting the tick. Symptoms of Lyme disease may include a bulls-eye rash and it's possible that symptoms will take several days to develop.
Burgess Pest Management implements a tick and mosquito control program that places the safety of people and pets at the highest priority. By applying environmentally-friendly and organic products with a 200-gallon hydraulic sprayer, Burgess ensures that the application is strong enough to kick up underbrush and other known harborage areas. This method also allows a residual barrier to form a protective ring around your property,
If you're shopping for tick control in Massachusetts, be an informed shopper because not all companies and treatment methods are the same. Many companies use non-licensed employees to apply inferior products with backpack misters. These service are admittedly cheap (in every sense of the word) and they are, objectively, not as effective as they should be. The team at Burgess Pest Management consists of licensed and insured experts, including entomologists and certified experts in tick and mosquito control.
If you'd like to learn more about the Burgess Pest tick and mosquito team and our methods, click here, where you'll also find a discount for Massachusetts residents.