For many years, Burgess Pest has been performing tick treatments in Massachusetts. But this March, we've had more customers than ever contact us to request starting their service early, even though we traditionally don't begin Massachusetts tick treatments until April.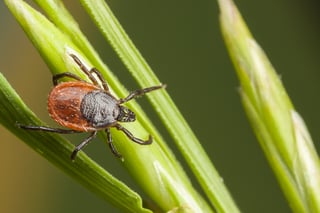 The reason early season Massachusetts tick treatments are critical is due to the prevalence of springtime tick activity and the importance of creating a residual barrier. Ticks are technically active almost year-round in Massachusetts, but they increase in activity when the temperature is above 40 degrees. Depending on our finicky New England weather, average daytime highs can easily remain above that threshold throughout March, and certainly in April.
An early-season Massachusetts tick treatment ensures that a residual barrier is applied to the property perimeter before ticks have more opportunities to infiltrate the lawn. The composition of the applications we perform allows for a residual effect; meaning the treatment will remain active for weeks.
An early-season tick treatment, followed by regular applications spaced at even intervals, is proven to reduce tick pressure on properties. The Burgess Pest team offers discounted treatment packages, which you can learn about by clicking the tab below.