Current conditions indicate an increased threat of mosquito-borne diseases in Massachusetts for 2020.
Last year's news headlines saw no shortage of EEE cases in Massachusetts. In 2019 our state saw several human cases, including three deaths, as well as several animal cases. Now, experts are saying the 2020 mosquito season may bring an even higher threat of mosquito-transmitted diseases. Here's what you should know about mosquito-borne disease in Massachusetts and New England.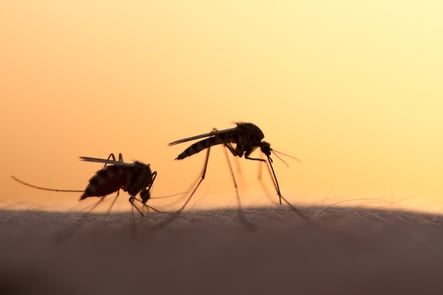 Eastern Equine Encephalitis, or EEE, is most often detected in mosquitoes that live in and around swamps. The mosquitoes contract the virus when feeding on infected birds, eventually passing it along to humans and other animals through their bite. In Massachusetts last year, EEE was found in several horses and one goat, although these animals do not transmit the disease. This past season, many Massachusetts towns imposed curfews and/or mandatory pest control treatments in effort to minimize the threat.
Symptoms of EEE include fever, headache, stiff neck, and fatigue. These symptoms take 3 to 10 days to appear. There is no treatment for EEE. The disease can cause permanent disability and death. Full recovery is rare.
West Nile Virus is another virus carried by Massachusetts mosquitoes. You may recall in the early 2000s when the Department of Health asked the public to report finding dead birds, for WNV testing purposes. More recently, the focus has shifted to testing mosquitoes directly for more reliable findings.
Most people who are infected with WNV do not present symptoms. Those who do may experience fever, headache, nausea and vomiting, body aches, or rash. Because the majority display no symptoms at all, it is hard to tell exactly how many humans have been infected, thus only those who develop severe illness are documented. There is no specific treatment for WNV.
So what can you do to protect yourself and your family from EEE and West Nile Virus?
Wear long-sleeved shirts and pants.
Make sure window and door screens are fully intact and close completely.
Eliminate standing water and harborage areas: Read up here on how to make your yard less attractive to mosquitoes year round.
We always defer to CDC recommendations for repellents, which can be found here.
Finally, call Burgess Pest and get a free estimate for mosquito (and tick) control. Armed with nearly a century of experience, the latest science and technology, and superior low-impact and environmentally friendly products, we can help Protect Your Pad from the threat of mosquito-borne diseases. It's just what we do.