Keeping your home pest free all year is a bigger challenge than you might think. In New England, we face four distinct seasons of weather, which means we also face four seasons of pest pressure. Since winter tends to be the most active time of year for rodents, we thought it would be helpful to share three things you can do to keep mice out of your Massachusetts home.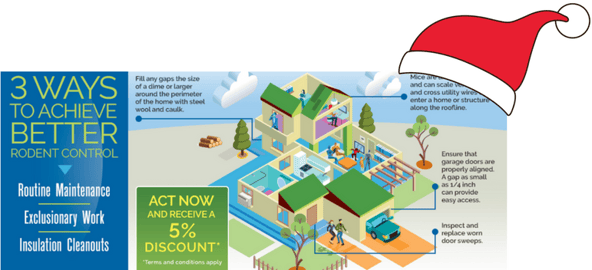 Have a professional inspect your basement and attic for potential entry points. Although you can also do this yourself, keep in mind that a reputable firm like Burgess Pest Management has experienced inspectors who are trained to search for common vulnerabilities. In many cases, estimates are free, so it won't cost you anything to have a trained set of eyes come to your home to take a look.
If the insulation in your basement or attic is old, consider replacing it. This is one of the most common spots for rodents to nest, which contaminates the insulation with their waste. The Burgess Team safely removes insulation, sanitizes contaminated areas, and replaces with new insulating material. If you do this, many homeowners also notice more heating and cooling efficiency.
Play a little offense. Rodents always come from the outside and search for ways to get inside to stay warm. So by having an exterior baiting system installed around your home, we're able to "cut them off at the pass" before they have a chance to get inside. Mice only need an opening about the size of a dime to squeeze inside. Anything you can do to keep mice out of your Massachusetts home is a step in the right direction.