Need to get away this winter? The Massachusetts bed bug control team at Burgess has you covered. Wherever your travels may take you, here are five bed bug travel tips. Find them before they find you!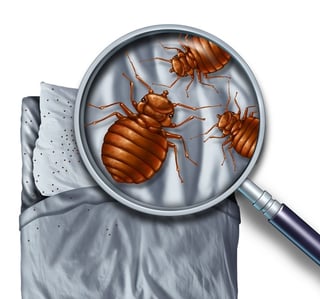 1- Inspect the mattress seams, box spring, and headboard in your hotel room. Bed bugs love to hide in tight spaces, so keep an eye out for these areas.
2- Keep your clothes in your luggage. If you unpack belonging into the hotel dresser, you increase the likihood of having bed bugs come into contact with your clothing. That's one way to avoid a bite, but also becoming the transportation that allows these parasites to hitch a ride home with you!
3- Get your luggage off the ground. By using the luggage rack in your closet, you're making it harder for a bed bug to crawl into your bag and travel home with you. Before you checkout, inspect the seams and tight spaces in your luggage to give yourself the "all clear" before heading out.
4- The truth hurts. Ask the hotel if your room has ever had a confirmed bed bug sighting. You may be afraid to know the answer, but it's less painful than a bite!
5- Use a pest management professional as a resource. Bed bug biology and behavior is complicated, as is the bed bug extermination process. A qualified pro like Burgess Pest Management can help you navigate the myriad of treatment options and informational resources available for Massachusetts bed bug control.