Marshfield, Massachusetts sees plenty of human activity year-round; it also sees the hustle and bustle of pests during every season. While ticks, mosquitoes, and termites may be primary concerns in spring and summer, winter comes with its own challenges- one of which is rodent infestation.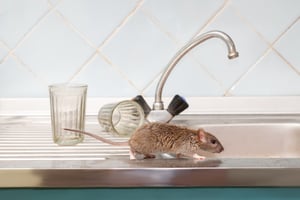 When you're dealing with a rodent problem, it can be tempting to try every trick up your (or Google's) sleeve. A quick internet search yields seemingly countless do-it-yourself methods of rodent elimination, from professionals and armchair experts alike. Unfortunately, mice and rats aren't all that simple to take on. Here are a few reasons not to DIY rodent control in your Marshfield home.
Cost. Understandably, many homeowners begin to sweat at the mention of an additional and often unexpected expense, thus sprinting to the local hardware store for a quick fix. While some over-the-counter approaches for rodent control may seem to work in the beginning, mice and rats are smart and persistent, and these methods can fail at any time for just about any reason. Before you know it, you're back at square one, paying for yet another device or bait. In the long run, DIY rodent control can end up costing you more than calling a professional.
Health and safety. If saving money isn't enough reason, there are also serious health risks involved in self-treating a rodent issue. Mice and rats carry pathogens that are spread through droppings and bodily fluids. Improper handling of dead rodents, contact with feces or urine, and long-term infestation from unsuccessful treatment can all put people and even pets at risk of disease.
Guess work. Without knowing exactly what kind of infestation you're faced with, or how bad it is, there is little chance of real success. Thanks to the rapid reproduction rate of mice and rats, a single nest or a few droppings here and there are almost always just the tip of the iceberg. While you're DIY-ing traps in your basement, several generations of rodents could be making themselves comfortable in your attic. It's best to have a professional fully inspect your entire home.
Prevention. Even once you have the rodents out of the house (or so you think), the key to keeping them out is proper prevention and regular re-inspection. If there's even the smallest pathway inside, mice and rats will welcome themselves back anytime. A seasoned pest management expert can determine how they got in, how to get them out, and what measures are needed to keep them out.
Need one more reason to call the pros? At Burgess Pest, an estimate is always free. Isn't that better than shelling out your hard-earned money for products that may not do the trick?