Winter may still be upon us, but Massachusetts is already crawling with ticks.
You may think you have plenty of time before you have to start worrying about ticks, but year-round vigilance is critical: If you need proof, we've already had reports of ticks on local pets. This relatively mild winter has not gone unappreciated by tick populations, and even recent snowfall only serves to insulate them while they wait to re-emerge.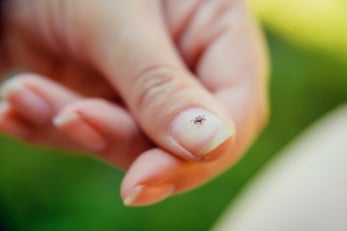 Ticks of different species and life cycle stages employ a variety of tactics to survive winter. Some take up residence underground or in leaf litter and yard debris; others latch on to a host for the long haul. Some may die off if they are unable to find suitable shelter, but that is no reason to become complacent- ticks in New England are a year-round threat.
Tick bites can spread diseases such as Lyme disease, babesiosis, and anaplasmosis, among others. While risk is highest during warmer months, it is wise to take precautions all year long. Check yourself, children, and pets for ticks after spending time outdoors. Remove any ticks immediately and either dispose of them or keep them in a sealed container for identification. Contact your doctor if you experience symptoms such as fever, fatigue, headache, body aches, or rash.
Because the safety of our customers and community is always a top priority at Burgess Pest, we offer several ways to Protect Your Pad from the threat of ticks- starting at just $49 per month. Treatments are customized to your property, products are safe and environmentally friendly, and you're able to enjoy your outdoor space with peace of mind.
Our tick control team rolls out in early April, so request your free estimate today!