If you're looking for scary stories this Halloween, pest control technicians have seen it all, and believe me, most of them have no problem sharing.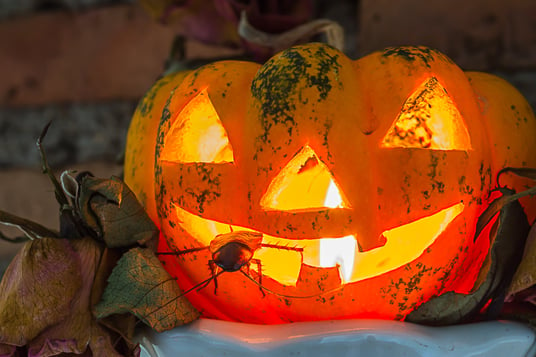 Sure, ghosts, demons, and vampires are scary, but they aren't real—Pests are. From oft-unseen critters that make things go bump in the night, to real-life bloodsuckers that attack in your sleep, the scariest stories are rooted in truth. Thankfully, none of these nightmare tales come from our stomping grounds, but they're bound to give you goosebumps.
Bed Bug Blow-Up
In 2016, a bed bug outbreak in an apartment building in Maine became so severe it prompted a city task force to propose an emergency ordinance that would require landlords to take responsibility for bed bug infestations. The infestation spread from unit to unit, into common areas- city officers even reported finding bed bugs in the walls. Shed exoskeletons were found by the dozens inside the building. Some tenants were seen in the hospital for their severe bites.
"Ankle Deep Swarm of Cockroaches"

Schenectady, NY, 1979: Police arrive at a residence, responding to reports of a barking dog. Instead, they encounter what they describe as an "ankle deep swarm of cockroaches" leading from the house, across the yard, to the street. One woman living in the home appeared to have collected multiple dogs, cats, mice, and a parrot—and all were living in flea-and-roach-infested conditions. The other resident was not present. The health commissioner stated the infestation was the worst he'd seen in his 20-year career, and the exterminator called to the scene confirmed the number of roaches was "definitely in the millions". The home was slated to be demolished after a three-block area of the neighborhood was treated, though the landlord planned to fight this decision and denied responsibility, stating the women had refused him entry for at least one year.


Bats in the Belfry
A Miami homeowner found his home was literally covered in bats- he stated they had heard the chirping at night but did not believe the critters had entered the house. His son went on record saying that "everybody would come to [the] house to see the bats" on Halloween (which should probably be a red flag). Video can be found online of workers removing the Spanish tiles, releasing dozens of bats from under each one, hundreds of leathery wings taking to the sky.
Whether you're terrified of termites, think mice are monsters, or get anxious about ants, Burgess Pest Management has your back. To purge your pad of petrifying pests, call for a free estimate today.
Happy Halloween!