New Englanders know that winters around here require some preparation- When the temperatures start to drop, it's time to break out the heavy coats and boots, make sure your snow shovels are easily accessible, and stock up on ice melt. You may not need any of it, but you don't want to get caught unprepared in a Nor'easter. As for mice in Massachusetts, they're working right alongside us, making sure they're equipped to survive winter as well – but how do they do it?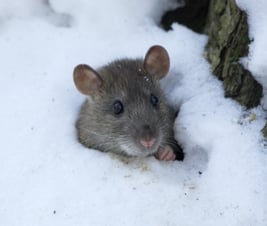 Ah, Cozy…
A mouse's needs are pretty basic: They like to stay very warm, and they like to be near food. That's why you'll frequently find them in utility rooms, near hot water pipes, and behind or under appliances (often in the kitchen).
Where Do They Go?
Mice burrow or nest in the ground, sometimes using burrows to access the interior of structures. It is not uncommon to find burrows near your home, where the warmth and promise of food will lure mice inside.
Once mice access the interior of your home (through openings as small as a dime), they find everything they need to comfortably wait out the winter. If they have shelter, heat, and food, mice have no reason to set foot outside while the weather is less than desirable. To make matters worse, mice can breed year-round when the conditions are right, meaning you could have a full-blown infestation before you know it.
Putting the Freeze on Mouse Activity
Mice are not ideal housemates- They can carry diseases, contaminate food, cause structural damage, and compromise air quality. Professional intervention is needed to eliminate the problem, followed by regular maintenance services to prevent reinfestation. The team at Burgess Pest has all the tools to keep you rodent-free: from Pad Protection Plans to Home Sealer & Sanitizer Service and insulation cleanouts, we're here to help you leave mice out in the cold this winter.