There's a lot going on this time of year - between planning parties, traveling, decorating, wrapping gifts, and all the other chaos the holidays bring, it's no small wonder that pest control is one of the last things on our minds. You may want to think about it more often, though: pests are not shy about inviting themselves to your Christmas festivities, and they'll find some unique ways to do so.
Are there bugs in my Christmas tree?
There's nothing that puts you in the holiday spirit quite like a fresh Christmas tree - the smell, the lights and decorations, the colorful gifts underneath, the insects.... Unfortunately, it's true: experts say your Christmas tree could be carrying as many as 25,000 insects!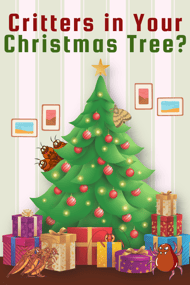 Pests commonly found inside Christmas trees include spiders, mites, moths, beetles, mantises, and spotted lanternfly. No need to panic: the majority of these festive fiends are harmless, but that doesn't mean you want them partaking in your party. Here's how you can avoid bringing unwelcome guests in with your tree:
Inspect your tree for eggs or evidence of bird nesting


Shake the tree out to loosen insects or eggs


Let the tree sit outside for a couple of days before bringing indoors



Vacuum debris that falls from the tree while inside



Keeping pests away from your party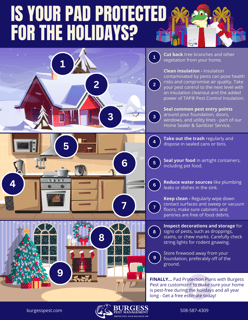 You've planned for weeks, you've baked and cooked and decorated to your heart's content - there is simply nothing that could ruin this Christmas party, right? Mice scurrying across your kitchen certainly could, or insects helping themselves to the buffet.
These tips will help you make sure your event is invitation-only - Click the image to enlarge or download.
For even more information and tips for a pest-free home for the holidays (and all winter), download our free 2022 Winter Pest Guidebook here!
Should you find that, despite your best efforts, uninvited guests are knocking, call the Burgess Pest team - any time of year.