To close out Rodent Awareness Week, here are some tips for DIY rodent prevention - but you should also know when it's time to call the professionals.
The key to keeping rodents from infesting your home is simple - Don't let them inside in the first place! Check out the infographic below to find out how you can make your home rodent-proof.
[Click to enlarge]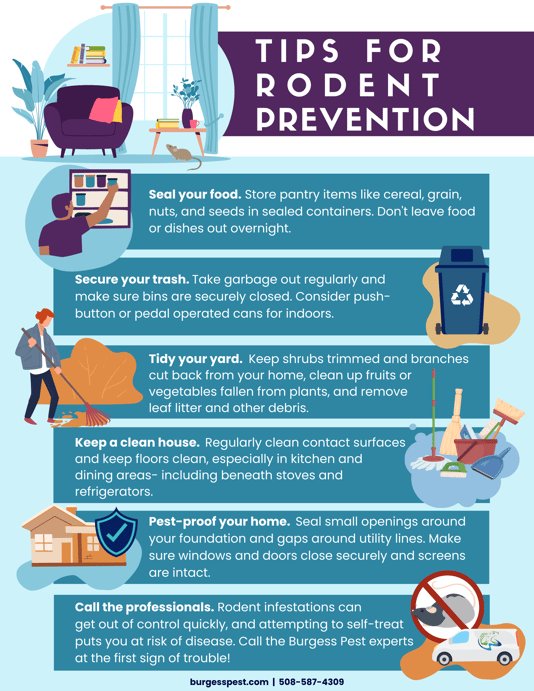 Don't feed them. Store foods like cereals, grains, nuts, and seeds in airtight containers (glass, if possible), keep cupboards clear of crumbs, keep pet dishes off the floor when possible, take garbage out regularly and make sure bins are secure. Consider pedal-operated or push-button cans for indoor trash.
Stay clean inside and out. Take away their shelter: Keep shrubs trimmed, remove leaf litter and other yard waste, store firewood off the ground, reduce clutter indoors, and keep stored items like boxes of decorations off the floor. Remove food sources: Clean up fruits and vegetables that fall from plants or trees, regularly clean floors and contact surfaces, and make sure to clean under appliances (and check your oven drawer!).
Deny entry. Seal cracks and crevices around your foundation and openings around utility lines, make sure windows and doors close securely, and check screens for tears or holes. Remember, mice and rats only need an opening the size of a dime or quarter to get inside!
Know when to call the pros. Rodents can take over your home before you know it, and once they're in, it's really hard to get them out! If you see one mouse in the house, odds are good that there are more where that came from. Don't waste your time or risk your health handling a rodent problem on your own - call the experts at Burgess Pest right away if you see signs of mice or rats in your home.
Team up with the power of Pad Protection for year-round pest control, and upgrade to add Home Sealer & Sanitizer + Insulation Cleanout with TAP® insulation to keep rodents and insects away for good - get started with a free estimate today!
Want more tips? Download your free copy of our Fall 2022 Pest Guidebook here!