When temperatures begin to drop, mice and rats are on the move looking for shelter from the elements. Now that rodent season is officially underway, it's time to make sure your Massachusetts home is fully prepared.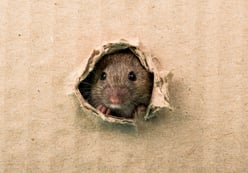 Please Do Not Feed the Animals
Store food, including pet food, in airtight containers
Keep pet dishes off the floor when possible
Regularly clean contact surfaces and floors, especially in kitchen and dining areas; keep cabinets clear of crumbs
Take trash out regularly and make sure receptacles are sealed
Don't Play Hide & Seek With Rodents
Keep clutter to a minimum indoors and out; when possible, storage items and boxes should be kept on shelves or otherwise off the floor
Store firewood away from the home and elevated from the ground if possible
Keep plants trimmed and mulch beds free of debris; eliminate leaf litter and other yard waste
Deny Access
Seal cracks and crevices in foundation and openings around pipes and utility lines– Remember, rodents need very little space through which to squeeze
Ensure that doors and windows close tightly and all screens are intact
Should you find that, despite your best efforts, rodents have turned your house into a winter getaway, it's time to call the professionals. Don't waste money, time, and energy on DIY rodent control: The experts at Burgess Pest have what it takes to safely and effectively eliminate mice and rats (while your hands stay clean).
Combine the power of Pad Protection with Home Sealer & Sanitizer + Insulation Cleanout to keep mice and rats away for good - Get on the road to a rodent-free home with a free estimate!
For even more tips and information, download a free copy of our 2022 Fall Pest Guide!